1. Click on the red "Buy Now" Button

2. Once you click on the 'Buy Now' Button, you will be redirected to our secure payment processors-VoguePay. On the Voguepay dialog box, Select 'VISA or MASTER CARD VERVE ' . At this point, it is important to write down the transaction Id, as this will be required by us.
Foreign clients can click the USD payment gateway
3. As soon as you 'Select a Payment Option', another page will be displayed. This is where you enter your email address for reciept purposes. After entering an active email address, click on 'Make Payment'
4. Once you have clicked on the 'Make Payment' button, you will be taken to the interswitch Nigeria secured site. This page is highly secure, you will know by observing a green background around interswitch on your browser bar. This shows you are dealing with a secured and encripted website. At this point, Your card details will never be disclosed even on any database. Select the type of card (Either verve or master card) then click 'Pay'. The additional NGN 600.00 is gateway charges for sales tax and delivery commission for the transaction.
5. Once you have selected your card type, Enter the necessary details such as your 16 digit card number, expiry date on the ATM card (In some cards it is written as 'valid Thru') and your CVV2 which is the last 3 digits at the back of your ATM card. For the benefit of this illustration, nairamaster card has been selected as card type. Once you have entered all your card details click on 'Pay'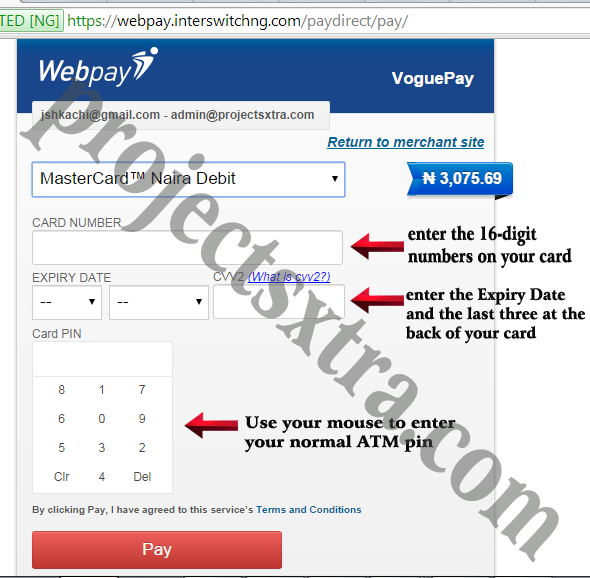 6. Once you click on 'pay' you may have to enter a token code depending on your financial institution or card holder. To get a token code from GTB visit any of their nearest branches.
Thanks for choosing projectsxtra.com.